I created the game scenario. I currently have one city. Through explorations, I have met five of the ten civilizations.
Maya
Carthage
Ethiopia
India
France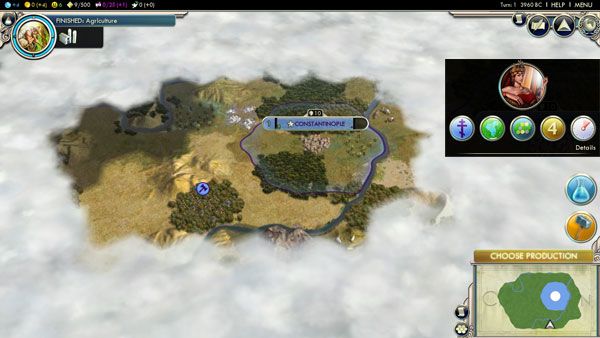 I founded a Pantheon with the God of Craftsmen selection. I have the second most amount of money and am the most well-fed, but am the least happiest. Two of the wonders I hoped to build have been taken by another civilization, but I did manage to construct the Temple of Artemis.
Progress on The Wonders:
• The Great Library
• Himeji Castle
• The Forbidden Palace
• The Great Wall
• Brandenburg Gate
• The Kremlin
• Pentagon
• Alhambra
• Statue of Zeus
• Temple of Artemis - built
• Heroic Epic
• Ironworks
• Manhattan Project
My intention was to play from 6pm to 8pm. The reality was playing from 6pm to 6:30, then taking a phone, then drafting an email as result, then some research, and then another email. By 7:20pm I was back to playing, but then got a distress call from my mom. The new computer she bought has stopped working. "I can see Seattle. Then I can see the log in screen with the pictures. I put in my password, and then it turns into a blue screen. The guy at Staples said I could shift click on the little button thing at the bottom left and do something called a restore. There are three kinds, I guess, but he said I had to do the third one, which would wipe out everything except for Windows 8. I tried to do that, but nothing comes up when I click it. Now what?"
Did I ever mention that I worked for tech support? No? Oh that's right, I never did. Ha ha ha. I have, however, dated several tech support people, and thus absorbed some information. Alas, I've been married for five years to a non-tech, and so I know nothing about Windows 8, other than it seems like the most irritating OS to ever be created. (That is just my very obscure personal opinion. I'm sure if I enjoyed being "constantly on," "always available," and "never unplugged" that I'd be bouncing like a gummi bear at the super options.) An hour later, the phone call ended. Back to gaming. Sort of...
It was now 8:30pm, and I was hungry. I stopped to make a bite to eat and grab a cup of coffee. (For readers that don't know, I'm on the "vampire" schedule-- up all night, sleep all day. Pretend my PM is your AM and I'll almost seem like a normal person to you.) My spouse was texting me at 9pm while I ate. Then mom called again.
By 10:15pm, I stopped gaming and started blogging. I do feel a bit more alert and focused. Am I about to go write? Actually no, I'm going to take shower first. Then clean the mess in the kitchen that resulted from making that bite to eat (which is also related to why I need the shower now instead of later). I'm also fighting a desire to take a nap- a direct result of trying to explain computer stuff to my mom, who I love with all my heart, but gave me a crisis I couldn't resolve and thus I feel bad/guilty/ineffectual. Hopefully I'll have better results tomorrow.