The lid of the box falls into place with a thud. A loud clicking sound fills the room. The floor vibrates under me. The jars shake, but none give me cause to believe they will fall. I look around, watching, waiting to see what will happen next.
The bowls around the room, which held flames, now extinguish one by one. I'm going to be trapped in the dark! Not some casual darkness where my eyes will adjust and eventually make out a few shapes, but the real darkness of an underground room, impenetrable to even the smallest glimmer of sunlight. I try to recall how long it takes cave blindness to set in. Days? Hours? How long will I have until my eyes can never see again?
Why would someone select me to record the upcoming history of events, and then render me blind? Then again, if I don't find a way out of this room, starving to death will be worse than becoming blind. How long can I live on the seeds and such that I found? Are any of the seeds poisonous to eat? Will I be able to guess once I'm blind?
The only remaining firelight fills the three-tiered-bowls near the entrance. I expect it to go out, but it doesn't. The vibrations stop. The room is still and silent once more.
In the center of the room, there is now a chair, an instrument, and a large framed poster. These weren't here before. I recognize the depicted image on the poster at once. It's Uncle Sam.
The writing on the poster instructs me on how to play this complex instrument. Apparently, it's originally from Ireland. The poster promises that this will be a difficult task. It is meant to prove me devotion to the cause.
What cause? If the cause is my getting out of this room alive, I'm devoted.
It seems that I don't need to play much. I need only manage a simple, short song. I managed Hot Cross Buns on a recorder in second grade, so how hard could this be?
I take a seat and hold the instrument as the poster suggests. Alright, that isn't so easy. I wiggle around in the chair, trying to get my stance to match the image before me. Uncle Sam stares me down, his finger pointing at me, making unspoken demands and judgments. I never noticed how intimidating that image was before.
Fingertips aren't used, as they were with that elementary school recorder. This uses the flat surface of the middle section of the finger. Seems I've been ignoring that area my whole life! Then the elbow comes into play. Who invented this thing?
I'm not certain, but I think this is actually meant to torture me. I reread the instructions, hoping for a miracle. An hour goes by, and another. Uncle Sam's eyes burn into my vision the way the old green C prompt burned into computer screens before screensavers and LCD.
My stomach rumbles. That isn't the note that'll save me. I force myself to concentrate. I don't need to master the union pipes, I only need to play a little. I can do this. I have to do this.
As another hour goes by, my fingers finally learn the grip well enough to land where intended. This is by no means mastery, but it functions well enough that I can play the tiny sounds I'm required to produce.
There's a clicking sound again. The floor vibrates.
Uncle Sam fades away as the poster lowers into the floor.
I'm alone in this dimly room without even those demanding eyes to stare at me. I set the union pipes down and run to the door. It's still locked.
What should I do?
( * Union Pipes were later renamed uilleann pipes. Both names start with U.)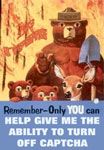 The petition only needs 25 more signatures!