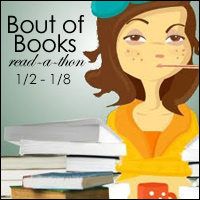 Days 3, 4, 5, 6
Book to Movie


Have a book you think would make an excellent movie? Now's your chance to share it! Go as big or as simple as you want. Share fanart, casting choices, or just a book or series you think would be OUTSTANDING on the big screen. Use the hashtags #BoBBookToMovie and #boutofbooks to share your picks!
#BoBBookToMovie My pick for a book to a movie (or 2) :
The Wise Man's Fear by Patrick Rothfuss. https://t.co/mzml0ZjPC0

— J Lenni Dorner (@JLenniDorner) January 8, 2017
Book Spine Poetry


A perennial favorite is back! Go hunting through your books and unleash your inner poet! Use the titles of your chosen books to create a poem. Snap a picture of your creation and share it with the hashtags #BookSpinePoetryBoB and #boutofbooks.

"It's like this, Cat. The little Coffee Shop of Kabul is filled with inspiration and motivation. It has a hold on me."
"Coffee Nerd."
"50 Uses for your Cat…"
My poem is meant to be read as a back and forth. It's a bit of humor in prose.
If You Like This, Try This


Since we all love recommending books, here's your chance to share the love.
Make sure you use the hashtags #BoBIfYouLikeThis and #boutofbooks on Twitter, Instagram or Facebook, so we can see your recs.


A History of the World in 6 Glasses by Tom Standage
If you like obscure history, or discovering history through a different point of view; if you are a writer who does world building; if you toss out fun facts at parties or during conversational lull — THIS is the book for you!



The Little Coffee Shop of Kabul by Deborah Rodriguez
If you are ready to try diverse fiction, this is a great book with which to start. It has a wonderful story about friendship, a bit about family, a sprinkle of romance, and deep thoughts about politics that sort of sneak up on you mid-scene. If you like discovering other cultures and seeing how they can successfully blend with cultures you know, read this book.



Freakonomics: A Rogue Economist Explores the Hidden Side of Everything by Steven D. Levitt, Stephen J. Dubner
How to phrase this… If you're a Liberal Democrat, this book will make arguing most of your points considerably easier, and therefore you will enjoy this book. If you enjoy having political facts backed up by math and science to discuss, read this book.



Invisible Cities by Italo Calvino
If you enjoy really beautiful writing with breathtaking imagery, give this book a try.




Books Read and Reviewed

The Miniature Golf Course Murders (River Corners Mysteries Book 2) by Sara Penhallow @SaraPenhallow
This book follows Isobel Santini, an editor, as she accidently discovers and solves a murder. The guilty person, the one who did it, made me laugh in an "I see what you did there," way.
Some quotes I enjoyed from the book:
"Some of us don't decide that God is irrelevant when he's inconvenient."
"But Papi always said his little princess didn't need to work," Aunt Rosa said softly, "and you didn't want to disappoint him."




I have not read books by this author before.




Four: A Divergent Collection by Veronica Roth @VeronicaRoth
Fantastic writing. A thrill to read. There's a line in the book, "How is it possible to live the same story twice, from different vantage points?", which is ironic and sums up half the book. Reading Divergent first is imperative. If you enjoy getting the other side of a story, this book is ideal.
There is quite a bit about child abuse in this book. (If you know the character Four, you know why.) There's a part where Four is afraid that Tris would look at him with pity, and make him feel weak, small, and empty. But, of course, she doesn't, she instead is angry at the abuser. To me, this is a really deep moment. All too often, those who have been abused, those who have experienced horrors without consent, feel they will be blamed — and, disgusting as it is, that does happen. There is hope and brilliance in a book that reinforces putting the blame on the abuser, on the attacker, on the person unable to control their own behavior. I'd give the book a sixth star just for this scene.
A quote that cracked me up:
"uncomfortable and wrong, the way an Erudite feels when she reads a grammatically incorrect sentence."
A quote that I want as a pin image:
"Dead people can be our heroes because they can't disappoint us later; they only improve over time, as we forget more and more about them."

Amazon category: Science Fiction & Dystopian (which I consider to be fantasy and speculative fiction)
(Tell me that you laughed at the fact that I read a book with the word "golf" and a book with the word "four" in the titles.)

Socialize online with J Lenni Dorner: